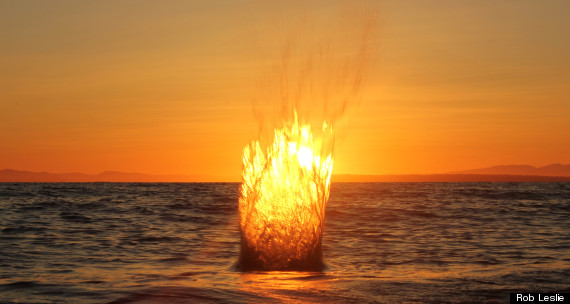 A B.C. photographer is behind an amazing photo of what looks like a splash of fire coming out of the Pacific Ocean, and it's capturing people's attention around the world.
Rob Leslie's image was featured as National Geographic's Photo Of The Day on Friday. The incredible photo depicts the moment a rock was thrown into the water against a winter sunset in White Rock.
Leslie, who is owns a multimedia production company, explained that he was "simply throwing rocks into the ocean" using a two-second shutter delay and a "cheap little tripod in the dirt."
"Totally encourage people around the world to try this out as it is a lot of fun," he added in the National Geographic's comments section, in response to people's questions as to how the photo was taken.
Leslie said he actually dropped his digital SLR camera in the water while attempting to take the shot.
The sunshot splash, which was taken in 2011, has become one of the National Geographic's "most liked" photos of the day.
"This is the greatest day in my photography career and only the beginning of what I will create," commented Leslie. "Been a fairly rough couple of years trying to get my photography and video business going in Vancouver, BC, Canada and this is a real breath of fresh air after so much hard work."
And if you cynics out there were questioning the photo's authenticity, here are some of Leslie's outtakes in a YouTube video:
Full Story Via Weird News on HuffingtonPost.com